Get our Bottled Water products with industry leading equipment.

Water Cooler Equipment Specifications 
Having a superior bottled water cooler is key!  Diamond Springs uses only commercial-grade, top quality bottled water coolers. Because of this, Diamond Springs water is always at a consistent temperature.  Consequently, our room temperature & cold and hot & cold bottled water cooler models are perfect for warehouses, waiting rooms, kitchens or any other spot where hydration is important.
HOT & Cold Cooler
Room Temp & Cold Cooler
These bottled water coolers allow you to enjoy hot & cold or room temperature & cold water instantly in your home or office. Delight in the convenience of drinks at just the right temperature. Moreover, they produce appropriately heated water for preparing coffee, tea, soups, other instant meals, and more.  
These top-loading water dispensers feature attractive black or white finishes that will seamlessly blend with most decors.  Made from high-quality industrial materials, these coolers keep running efficiently even with heavy use. 
Hot & Cold and Room Temp & Cold Coolers
These water dispensers come loaded with features that will fit right in  with your family or coworkers' routines.
Top-located control panels give multiple options and notifications to enhanced convenience throughout the day.  Above all, reloading has never been easier with the bottom load capability.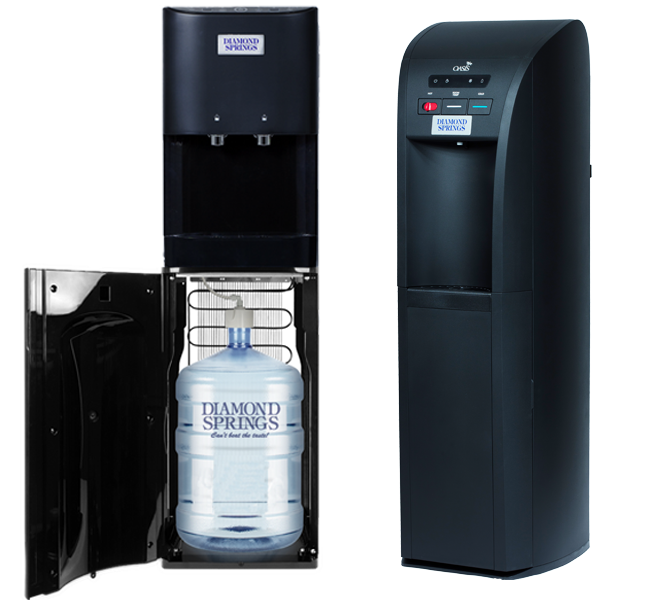 Eliminate sticky finger smudges with a touch free bottle water cooler. No need to worry about heavy lifting, since this cooler is a bottom loader. The stylish, contemporary look of the touch free cooler compliments offices, lobbies, kitchens and break rooms. In conclusion, these bottled water coolers are great for getting a contactless cup of water.  
This Hot & Cold counter top water dispenser is a wonderful alternative for saving space within your home or home office. The compact design lends itself perfectly for condos, apartments, and small office spaces.  In addition, slick black exteriors are a statement in any location.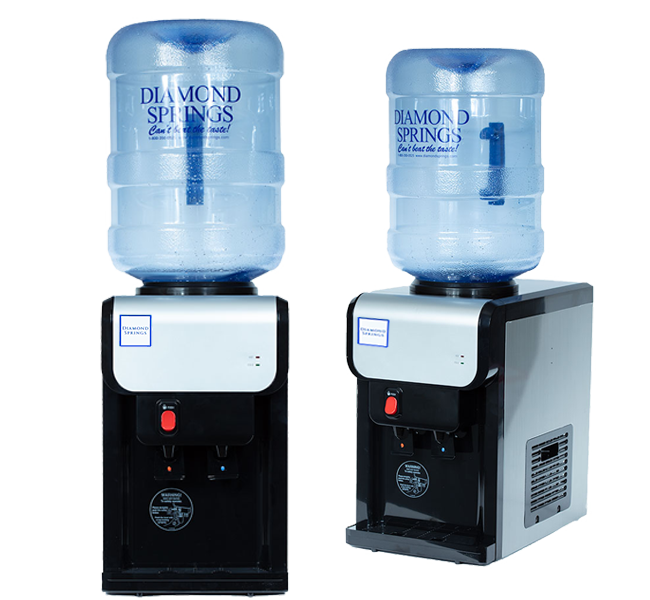 Water Cooler Starter Packages
The easiest way to get started! Diamond Springs water cooler service and three 5 gallon bottles included. 
Visit our Special Offers page to see more!
Looking for Office Delivery Services?
Look no further!  Diamond Springs is happy to provide delivery service to your residence and your business. 
Have Any Questions?
Let our experts help. We pride ourselves on delivering high quality products with quick, reliable service. We promise to get back to you as soon as possible.
Ready to Order?
Click the link below and you'll be redirected to our customer portal -Diamond Digital. There you can browse our products and services and order what's right for you.